10 Best Toys For Husky Puppies (Buying Guide – updated 2021)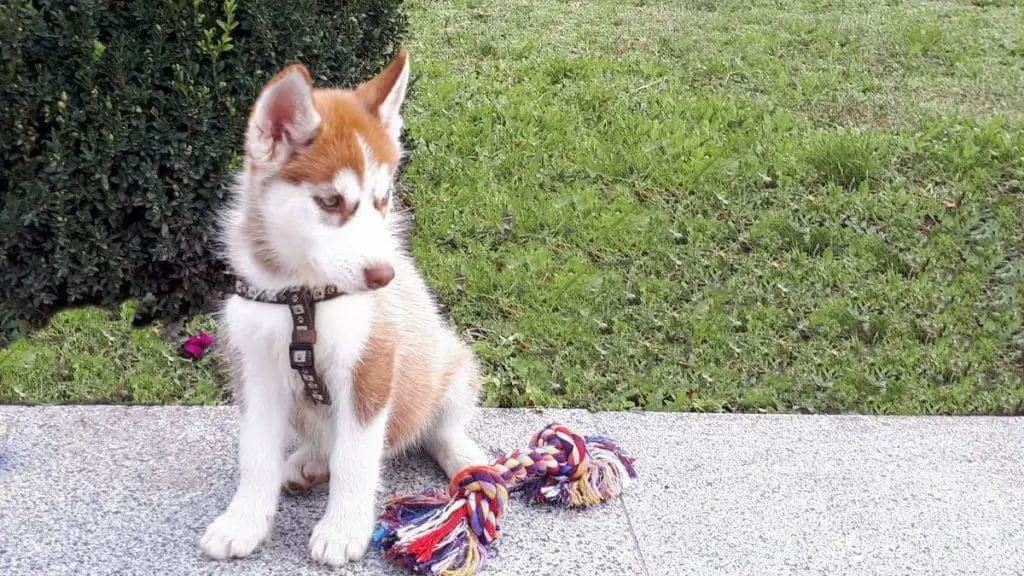 Huskies are smart, energetic, and playful dogs. It is hard to entertain and play with them as you cannot match their energy level. They need a lot of exercises to be happy and perform at their best. 
These dogs cannot sit around the house all day. They might get bored and even become destructive at times. So, to keep them entertained, you can buy some toys specially made for Husky puppies.
Toys play an essential role in keeping them mentally stimulated and productive throughout the day. You can give these toys to your Husky to keep them busy and happy. But with so many options out there, you have to select the best toy for your Husky. So, below is a list of the best toys for Husky puppies available in the market to help you choose easily.   
Our Top 3 Picks
Image
Best Pick
Best For Fetching
Best Pick
Image
Best For Fetching
Image
Best Toys for Husky Puppies
While there are many toys to choose from, you need the best ones that last longer and keep the puppy entertained. You can select any of the following toys for your Husky puppy:
Kong Rubber Ball Extreme
Wobble Wag Giggle Ball
Nylabone Dura Chew Flavored Dog Toy
Outward Hound Hide A Squirrel
Chuckit! Kick Fetch Large Ball
Trixie Dog Activity Chess
Nina Ottoson's Dog Tornado
KONG Jumbler Ball Toy
PetSafe Automatic Dog Toy Ball Launcher
Petstages Dog Chew Toys
---
Kong Rubber Ball Extreme
---
---
A Kong ball is the ultimate toy for any type of dog that loves playing with his/her owner. Kong is one of the best companies that produce toys for puppies. This Kong rubber ball lasts longer than most toys. 
Kong uses a material that soothes your Husky's gums and keeps their teeth healthy. You can use this ball to play fetch with your little Husky. It comes in various sizes so that you can use it with your Huskies no matter how big they are. 
The best feature of this Kong ball is that it has a hole drilled through the center. This way, the ball can double while your dog takes time to find it, and you can focus on your work. Moreover, the drilled hole helps in preventing any suction on your Husky's tongue. 
This rubber ball is a best-seller among those who have Huskies at their home due to its durability and Kong's brand value. Even if your dog chews it, the ball will have no or minimal effect. Its unpredictable bounce will allow your Husky to use his/her body as well as the mind to control the toy.  
The coating on the material keeps their teeth and gums clean. Also, like most Kong's products, the hole in the center allows you to stuff the toy with your pet's favorite treat. With the Kong rubber ball extreme, you can enjoy your day while your Husky chases the treat during his/her playtime. 
Features
Perfect for fetch or chewing 
Uses soft rubber 
Made with Kong's material 
Durable 
Pros
Soothes the dog's gums
Uses strong and durable material 
Almost indestructible 
Can be stuffed with treats
Available in various sizes 
Cons
Strong hard rubber smell
Might need a larger size if your Husky is a hard chewer 
Sale
---
Wobble Wag Giggle Ball
---
---
The Wobble Wag Giggle ball is another great toy for your Husky puppy. It is a glow-in-the-dark ball that keeps the fun alive for your dog even at night. The ball illuminates in the dark, allowing your dog to play any time of the day. 
The Wobble ball works with all the dogs, not only Huskies. No matter how young, old, big, or small your dog is, this toy is excellent for all. And with its glow-in-the-dark effect, your dog will remain active and entertained all day long. You can charge the glow by placing it under a source of light before you take the dog out to play.     
When you shake the ball, it produces a sound that says, "play with me." It will keep your dog engaged as he/she becomes more curious while playing with the ball. You can enjoy the show as your puppy plays with this Wobble ball in light or dark. 
Not only can you play with your dog in the dark, but also have fun with him in your home or the park. Watch your dog enjoy with Wobble ball that the glow in the dark effect and the playful sounds to keep him engaged.  Moreover, this toy is durable and safe as it uses pet-safe, phthalate-free vinyl.  
Features 
Uses pet-safe material 
Glow in the dark effect 
Produces giggling sounds 
Six clutch pockets
Pros 
Easy to carry for dogs 
Easy to clean 
The dog can play in light or dark 
Quick charge
No batteries required
Cons 
---
Nylabone Dura Chew Flavored Dog Toy
---
No products found.
---
No products found.
The Nylabone Dura chew Dog toy is a chewable toy for your Husky. It is for those pups that enjoy chewing rather than playing in the park. It comes in various flavors, such as peanut butter and beef. 
This toy has rigid gripping that allows the Husky to hold it and chew it for as long as he wants. Due to the different textures on the toy, it will clean your dog's teeth every time he/she uses it.   
These types of dog toys are a good option for pets that have destructive behavior while alone at home. With this toy, the company targets large dogs that weigh more than 50 pounds. 
Nylabones is a renowned brand that makes durable and high-quality toys for dogs. So, this toy can be your Husky's best buddy whenever he wants to play. Your dog will be able to hold the toy easily with its paws because of its unique shape. 
Moreover, this toy keeps your Husky's teeth clean with the multiple textures on the material. It ensures the hygiene of your dog, unlike many other toys. And the best thing about this is that you can get it within your budget.  
Features 
Available in many flavors 
Different textures 
High-quality material
Chewable 
Pros 
Easy to hold 
Perfect toy for chewers 
Lasts long 
Budget-friendly
Cons
No products found.
---
Outward Hound Hide A Squirrel
---
---
The Outward Hound Hide a Squirrel will test your Husky's mind. You can hide this toy anywhere in your house as your Husky tries to find it. It is a good option for those dogs that get destructive while playing. 
It will give your Husky a challenge as he/she tries to find the hidden toy. Toys like the Outward Hound are perfect for pups that love to play mind games with their homes. The Husky will keep looking for the squirrel until he finds it, keeping his boredom away. 
The Outward Hound toy is one of the great playthings for your dog that keeps challenging him. It will help you focus on your work as your Husky looks for the toy. Most Huskies tend to be destructive when they don't find something for their entertainment. 
This toy will resolve this issue and keep the dog busy for a long time. It is a durable toy for dogs and does not require much effort in cleaning.
Features 
Durable plush toy
Includes squeaking squirrels 
Interacts with the dog 
Various size 
Pros 
Good for mind stimulation 
Available in different sizes
Ideal for puppies and adults 
Cons 
Not durable enough for tough Huskies 
Sale
---
Chuckit! Kick Fetch Large Ball
---
---
The Chuckit! Kick Fetch Large ball is a fun, interactive toy for you and your Husky. It allows pets to chase the ball as the owner punts it away, making them an ideal dog toy for boredom. 
This ball, made of rubber, has a foam construction that allows it to float in water. So, you can play with your Husky on land or water with this Chuckit! Fetch ball. 
Your dog can easily grab this ball because of its deep, grooved design that ensures the toy's durability. It is a durable toy, allowing your dog to play with the ball for as long as possible. 
It has a bright orange and blue color that is clearly visible to the owner and the dogs. Your dog can play with this ball even on tall grass while playing outdoors in the garden. 
The toy's durable construction, a combination of canvas, foam, and rubber, helps the Husky to play rough, outdoor games. It also features a glow in the dark that you can activate after charging it under a bright light for only five minutes. Once charged, you can play with your dog in the dark for at least 20 minutes. 
The rubber and foam construction induces a random bouncing pattern to keep your Husky engaged in the activity. It comes in two different sizes so that you can enjoy fetching with your Husky puppy or a well-grown dog. 
Features 
Rubber and foam construction 
Floats in water 
Glow in the dark effect 
Clearly visible colors 
Pros 
Great for both land and water play
Easy to pick 
Durable material 
Large enough for kicking 
Creates a random bouncing pattern
Cons
Heavyweight makes it difficult to throw 
Might break something when thrown 
Sale
---
Trixie Dog Activity Chess
---
---
If you are looking for a challenging game for your Husky, the Trixie Dog activity is the best option for you. Other than for play, you can also stuff this toy with snacks to reward your Husky. It makes the toy entertaining and delicious for the puppy at the same time. 
Its unique design allows you to hide the snack beneath the toy's pieces so that your dog remains busy for a long time. It comes with four adjustable skill levels having different difficulties that challenge your Husky. 
This activity chess toy for dogs can become your Husky's best friend at a reasonable price. If your Husky is a natural problem solver, this toy will help him put his skills to the test as he tries to score for some snack. 
In case the toy gets dirty, you don't have to buy a new one as it is washable in the machine. With this toy, you can keep your dog engaged and challenge him at different levels once he gets good at it. 
Features
Unique design 
Four difficulty levels 
Space for a treat 
Machine washable 
Pros 
Enough space for a snack 
Reasonable price 
Easy to wash 
Challenges the dog 
Cons
Size is small 
Husky needs time to get used to this toy
Sale
---
Nina Ottoson's Dog Tornado
---
---
If you need a toy that keeps your Husky busy while you do your work, Nina Ottoson's dog tornado is your ideal choice. With this tool, you won't have to stay involved with your Husky all the time. 
As its name suggests, this dog toy is a spinning tower that teases your Husky with snacks and treats that he can chase and snatch. If your dog is a critical thinker, Nina Ottoson's dog tornado will be the perfect choice for you. 
Your Husky might need to get familiar with this toy, which requires a few tries. It can be pretty tough if you leave the toy with your dog without making him understand it. Once he knows how to play with it, your Husky will love the way this toy spins while looking for delicious treats in it. 
Energetic, playful Huskies love toys that move and spin on their own, like Nina Ottoson's dog tornado toy. It will challenge your dog to find the treat as fast as possible without demanding much of your attention. 
Features
Can contain treats
Spinning, moveable toy 
Comes in various sizes 
12 hidden compartments
Three dog bone covers  
Pros 
Does not need the owner's involvement 
Treats the dog 
Great for playful dogs 
Challenges the Husky  
Cons
Tough to learn 
Not for chewers 
Sale
---
KONG Jumbler Ball Toy 
---
---
Huskies that love playing with regular tennis balls can play with the Kong Jumbler ball toy. This toy is made with tough rubber, having a tennis ball inside of it. It allows your dog to enjoy while knocking the toy around in creative ways.    
The squeaking voice of the rubber ball is a bonus for the dogs who respond to auditory cues. It is a durable toy for playful Huskies as its high-quality rubber shell helps the toy endure hours and hours of play in your Husky's paws and mouth. 
The tennis ball will keep the Huskies engaged and focused while playing. So, if your Husky is energetic, active, and playful, you can let him play with his toy for as long as you want. 
It will also be an excellent option for those Huskies that need regular exercise. You can use the Kong jumbler ball toy to play tug of war or fetch and keep your dog in shape. It comes with high durability, keeping your dog busy for a long time. 
Features
Squeaking voice 
Made with tough rubber 
Has a tennis ball inside
Available in two shapes – Ball and Football
Pros 
Extremely durable 
Engaging 
Squeaking voice entices play 
Great for interactive play 
Cons
---
PetSafe Automatic Dog Toy Ball Launcher
---
---
The PetSafe Automatic dog toy comes with multiple sensors that keep your dog safe. Its front motion sensor protects the Husky and tall people from the launch area and reinforces the pocket's loading balls safely. 
This ball launcher can throw between 8 to 30 feet distance, having nine distance settings and six angle settings. It has a pullout & twist angle knob and a distance knob that helps adjust the launcher's range.   
After every 15 minutes of play, the launcher goes to rest for 15 minutes. The remaining period ensures that your Husky does not tire himself while playing with the toy.  
You can use this toy both indoors and outdoors to help your dog exercise and keep him entertained. For indoors, you can use the power cord, while for outdoors, you can use the 6D cell batteries that come separately from the toy. 
You can load up to three balls at a time in this ball launcher that can hold a standard-sized tennis ball or even a smaller one. With its audible tones, the dog will alert the dog when the launcher releases the ball for him to play. 
Features 
Audible tones 
Safe ball launcher 
Adjustable range 
Works on batteries or a power cord 
Automatic rest mode  
Pros 
Can launch three balls at a time 
Audible noise alerts the owner and the dog
Water-resistant 
Cons
Only works for 15 minutes
---
Petstages Dog Chew Toys
---
---
This toy is a chew stick made from a blend of wood and synthetic materials that creates the natural taste and texture of real wood. It acts as an alternative to the whole wood sticks that are not chewable and may even harm your Husky's teeth. 
With the Petstages Dog chew toy, you will get a great option to keep your dog's teeth healthy. It is an ideal option for Husky puppies who want to satisfy their chewing needs. 
If your Husky bites real wood, it might cause oral or intestinal damage to him. But with this toy, your dog will be safer while enjoying the flavor of natural wood. 
Moreover, you can play with your Husky either indoors or outdoors with this chew toy. It can even float in water, allowing you to play comfortably outside your home. 
Features 
Available in four different sizes 
Shaped like real wood 
Easy to play fetch 
Can float in water
Pros 
For both indoor and outdoor play 
Safe and durable 
Mimics the taste of real wood 
Keeps the teeth clean 
Cons 
Tends to flake and creates a mess 
Buying Guide: Best Toys for Husky Puppies
As there are so many toys available for your Husky puppies in the market, it is impossible to select the best one. Here are some features you need to look for while buying a toy for your puppy: 
Toy Purpose
While buying a toy for your Husky, you should know why you need it. It might be to train his mind or for him to play when you are not at home. 
Once you know the purpose of the toy, you will be able to select the best one for your Husky. If you get the wrong toy, your Husky might get destructive and even harm themselves. So, you should know the purpose of the toy you are purchasing for your little buddy. 
Fetch or Chew
Since each toy is different, they all serve a different purpose to the Huskies. Some toys are chewable, while others are fetching toys for puppies. However, you may find some toys in the market that work both for chewing and fetch. 
Balls may not be best for chewer Huskies as the pets might destroy the ball while chewing them all day. On the other hand, bones can be great for chewing as well as throwing the toy for your Husky. 
Toy Material
Material is one of the most important factors to examine while buying a toy for your dog. It determines how long the toy will last and keep your Husky entertained. 
If you buy squeaky toys, your Husky will destroy them within seconds, even before they could play with it. You can purchase indestructible toys or the ones with 100% money-back guarantees, in case your dog chews all of it. 
Toys to Avoid
Here are the toys that you need to avoid to ensure the safety of your Husky puppy: 
Plush Toys: If dogs consume cotton, it can cause severe damage to their digestive system. So, if you buy one of these toys, you should give them to your Husky under supervision.  
Squeaky Toys: Squeaky toys might increase a Husky's curiosity to know where the sound is coming from. They could chew the squeaking source while searching for it that can cause several health problems. 
Conclusion 
If you want your Husky to be happy, you need to buy him/her a toy. It will keep them busy, and you will not have to play with the dog all the time. You can select any of the above toys or research more to grab others suitable for your Husky.
Look for the features mentioned in the above buying guide to get the best toys for Husky puppies. It will help you make better decisions while buying a toy for your little Husky pup.