10 Best Undercoat Rakes For Huskies (Buying Guide – updated 2021)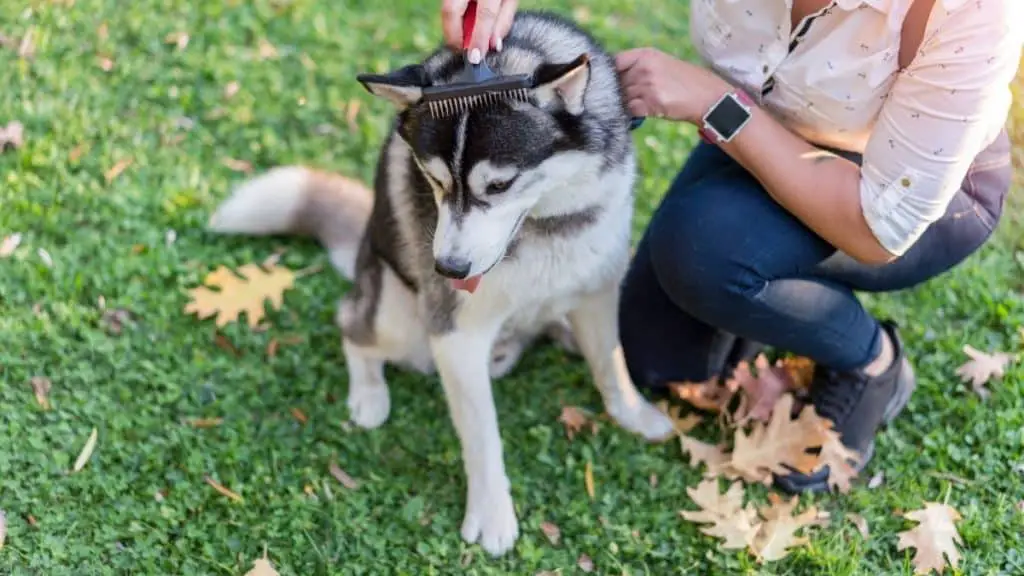 Our Top 3 Picks Of Undercoat Rakes for Huskies
Image
Best Pick
Most Durable
Best Design
Product
FURminator Undercoat Rake
Paws Pamper Dual-Use Wide Undercoat Rake
Best Pick
Image
Product
FURminator Undercoat Rake
Most Durable
Image
Product
Paws Pamper Dual-Use Wide Undercoat Rake
Best Design
Image
What Kind Of Coat Do Huskies Have?
Siberian huskies tend to shed at least twice a year when the seasons are changing. However, this may vary depending on the climate and the changes in the temperature of the place it lives. Huskies have two layers of coat, a top, and an undercoat. 
The topcoat is the outer layer that does not shed often. This upper coat is thick and rough hair. They also protect them from dirt, dust, bugs, and UV rays too. 
The undercoat is a lot softer than the topcoat. This coat relatively sheds more often, especially when there is a significant change in temperature and climate. 
Double-coated dogs need proper grooming; hence that should not be neglected even with Siberian huskies. If the grooming is not done correctly, the coat can get tangled when it is shed. There are many types of brushes that can be used on huskies. 
Some of them can be used easily, while you might have to be careful while using others. 
Types of Husky Brushes
Rake Brush
This is an essential brush, especially for dogs with double coats. This brush generally has a row of long, strong pins. This brush reaches from the top to undercoats. It helps get rid of dead hairs, and the hair can also be untangled without much pressure. 
The only thing you should keep in mind while buying a rake brush is that the pins should be the same length as the husky's coat. This will avoid putting too much pressure while brushing and will not damage the skin of the husky. 
Pin Brush
This brush is also one of the most comfortable and easy to use on dogs. It does not damage the skin and is made of relatively thin wires. However, it does not help in untangling a lot of hair. Compared to other brushes, they don't pick a lot of hair. 
These brushes can be used when the coat has already been groomed with a different brush. It can be used for making the coat smoother after brushing them with a rake. 
Deshedder Brush
These brushes are a bit harsh and should be used carefully. It has the potential of causing damage to the coat of your husky since they are very sharp. Regardless, they do a very great job in de-shedding your husky. 
If it is used with caution, the straggles can be removed without any difficulty. They are also immensely helpful in removing the dead fur. 
Slicker Brush
These brushes have thin wires like pin brushes. It helps in detangling the coat of your dog. The dirt on your dog's coat can also easily be removed with the help of this brush. 
Since the wires on this brush are comparatively thin and short, they are much more comfortable using the husky. 
The best brush for huskies
Although any of the above brushes can be used on huskies, only a few can help in shedding properly and untangling the hair without much damage to the skin. 
The most well-known and versatile brush for the huskies is undercoat rakes. It helps in removing the brush without any difficulty. Slicker brushes are also suitable for grooming the topcoat. Both these brushes can be used separately for the best results. 
The Top 10 Best Undercoat Rakes For Huskies
It might get difficult to choose the right kind of undercoat rake for your Husky. There are so many brands, so many options, and so many different kinds of brushes that are available today. How do you know you're making the right choice? 
We've scoured the internet. We've looked at so many different Husky brushes. After careful perusal, we've compiled this list of the best undercoat rakes for your Husky. Along with the best products, we've put together some questions you may have while searching for the right undercoat rake.
The ranking for the best undercoat rakes for Huskies:
FURminator Undercoat Rake
JW Pet grip soft Double Row Undercoat Rake
Paws Pamper Dual-use Wide Undercoat Rake
Oster Dog Rake
Pet Republique Undercoat Rake
Pat Your Pet 2 Sided Undercoat Rake
PawsPamper Undercoat Rake
Safari Undercoat Rake
ConairPRO Dog Grooming Rake
Shedmonster 078279-108 Undercoat Rake
---
FURminator Undercoat Rake
---
---
This rake has long pins, which do not cause any irritation on the skin of the husky. Moreover, it removes the dead hair and prevents entanglement. The teeth can also be rotated, which works in thick hair too. 
The fur stays in the rake and does not spread anywhere else while it is being used. Any loose hair can be removed with the help of this rake at a very high speed. If you are looking for the best undercoat rake for husky, this is an ideal option for you.
Pros
The teeth of this rake are stainless and long. 
It is convenient to use every day and is very durable as well. 
It is the best rake for grooming the undercoat. 
The edges are round for smoother grooming. 
Cons
It can be a bit harsh on the skin if too much pressure is applied while brushing. 
---
JW Pet grip soft Double Row Undercoat Rake
---
This rake is ideal for removing dead hair without causing any irritation to the skin. It helps in removing dead hair and then smoothens the topcoat. This rake's teeth are parallel, making it easy to use on the huskies, especially when heavily shedding. 
The handle is ergonomic, which has a non-slip grip and makes it easy to hold. This grip gives you control, and there is less risk of slipping while brushing the undercoat and causing damage to the skin.
Pros
It can help in removing a large amount of hair. 
The speed is also worth mentioning. 
It has a curve that is best suited for dogs with double coats. 
Cons
The hair might float or spread around while using the rake. 
Sale
---
Paws Pamper Dual-use Wide Undercoat Rake
---
---
This rake has several features and provides a variety of blades. The varied teeth provide extra versatility. There is an option of using either 19 or nine blades. These can be used according to what is needed at the time. 
The nine blades are comparatively wide and help in detangling the hair and works perfectly. However, the 19 blades are more often used for removing the hair. 
This rake's quality is premium, and it has a relatively strong build making it very durable. This rake is made of wood and stainless steel as well. 
Pros
This rake is one of the best durable ones. 
The teeth are rounded, which makes them safe to use. 
The two blades functionality makes it unique. 
Cons
This rake is relatively on the expensive side. 
---
Oster Dog Rake
---
---
This undercoat rake is made of stainless steel, which makes it very durable. Moreover, the teeth' material allows for more smoothness while brushing the undercoat avoiding any damage to the hair or skin. 
The handle of this rake is made of metal and is very comfortable to use. You will not lose many furs while brushing the hair, and 18 teeth provide enough space between them. With this in mind, the rake works freely and entangles the hair more efficiently. 
Moreover, this rake's material prevents it from being rusty and very easy to clean. The dead hair can be removed without causing harm to the skin. 
Pros
This rake has enough space for smooth grooming. 
It is effortless to clean and does not rust. 
The broadhead, along with a sturdy grip of the handle, is very convenient. 
Cons
Since this rake is made of metal, its head can be a bit loose at times. 
---
Pet Republique Undercoat Rake
---
---
This product works best with any pets that have thick or double coats. Hence, it is best suited for huskies, and they can easily be groomed without any risk of slipping while brushing the huskies' undercoat. 
Moreover, this rake handle is also ergonomic, which makes it easy and comfortable to use. The rakes' tips are curved, and no extra amount of pressure is needed while brushing the undercoat. 
This rake helps in avoiding any mat in your husky's hair. However, it is not as ideal to use it on furs that already have maps. Hence, you might have to use an extra tool, preferably a shedding tool, if they already have mats. 
Regardless, this undercoat rake is exceptionally good at taming loose hair and can altogether remove all the dead hair at the same time. 
Pros
This rake prevents matting. 
The ergonomic handle and rubber grip make them easy to use. 
Cons
It does prevent mats but can't remove them. 
---
Pat Your Pet 2 Sided Undercoat Rake
---
---
Although this tool has a plastic handle, the grip is made of rubber, making it very easy to use. Along with that, the tool is affordable with excellent performance. 
This rake is two-sided that allows grooming in two aspects. You can use this rake upside down to de-mat or detangle; after doing the same, you can flip it. The loose dead hair can then be raked out. Its sharp teeth and enough space in between also allow for more smooth brushing of the tangled hair and fur. 
The teeth on the outside can be used to remove the mats, and the sheddings are released simultaneously. It has additional rubber pads and an ergonomic handle for smoother brushing, and there is no chance of slipping and hurting the pet. 
Pros
It has an ergonomic design. 
The duality of this tool makes it more effective. 
It also offers smooth brushing. 
Cons
The pressure might be a bit too much if the fur is heavily matted.
Sale
---
PawsPamper Undercoat Rake
---
No products found.
---
This rakes' handle is made of wood which also has a metalhead. Due to the immense amount of space between 20 blades, the rake works perfectly well, even with thick furs. It avoids discomfort to the dog while brushing them with it. 
There is no chance of rusting since the materials used in this rake are stainless steel. Moreover, the blades are round, allowing the pets to feel nice while being brushed. The wood of the handle is also biodegradable. 
Pros
The material that makes up the handle of this rake prevents it more rusting. 
The rounded blades enhance the brushing process, especially for the pet. 
The design is unique. 
Cons
It needs more pressure at times for effective brushing. 
---
Safari Undercoat Rake
---
---
This is yet another tool with a rounded tooth for more comfortable brushing of the fur without causing harm to the skin. However, it is made out of plastic, which doesn't have enough grip as the ones mentioned above with wooden or frim grips. 
Due to its plastic handle, the brushing process can't be as smooth. Moreover, the rest of the fur spreads around and does not stick to the rake while brushing. This rake is best used if the husky coat is a bit thin or used after the shedding has been removed with other rakes. 
However, since the huskies' coats are a bit too thick, it might be challenging to clean out the entire fur and not give proper results. 
Pros
If you groom your pet regularly, this tool might help brush the rest of the fur. 
It is beneficial if the hair is medium-length. 
Cons
It might take a lot of grooming and pressure while brushing the fur. 
---
ConairPRO Dog Grooming Rake
---
No products found.
---
Like the product mentioned above, this is also made of plastic, which might not be favorable to use if the husky's fur is too thick. However, this tool can be used to remove loose dead hair. 
It isn't considered the best tool due to its short pins, which are blunt and can be problematic de-matting the husky's fur. Moreover, it might be best if this tool is used slowly and without any pressure. The reason being, it has a higher possibility of causing harm to the skin of the husky.
Pros
It can remove loose dead hair. 
This tool is quite durable as well. 
It can also keep shedding in control. 
Cons
The handle is not ergonomic. 
It might need a lot of pressure to get through the thick fur. 
They have relatively shorter pins. 
---
Shedmonster 078279-108 Undercoat Rake
---
No products found.
---
This tool is ideal for dogs with long and thick coats. It can remove loose hair without any trouble, regardless of its short pins. However, because their pins are thin, it does not cause damage to the skin of the husky. 
The drawback of this product is that, even though it is termed as a rake, its performance is almost the same as a slicker brush. The handle is comparatively shorter than other rakes, which can be challenging to use for some. 
Pros
Dead hair can be removed without any difficulty. 
It helps in breaking off mats. 
It can be used on cats as well. 
Cons
The pins are short with a relatively short handle
---
Buying Guide 
Some of the things to remember while buying brushes for your Husky: 
Size of your Husky 
You need to find the right-sized brush for your Husky. You will find many brushes that are made especially for Huskies, but it's important to find the right size for your Husky's comfort. 
Length of the hair 
You will find combs that are made for long-haired coats and short-haired coats. Depending on how thick or thin your Husky's fur is, get the right kind of brush that suits it. 
Type of brush 
You need to choose the right kind of brush for the job. There are different kinds of brushes that you would need to use at different grooming a Husky stages. So choose the right one at the right time. 
How do you choose the right undercoat rake for your Husky? 
While searching for the right undercoat rake for your Husky, make sure you spend a lot of time on the research phase. You're going to be presented with a huge collection of undercoat rakes from many different brands. It's important that you know what you're paying for. 
Read up about what you need from an undercoat rake for your Husky. Also, think about what you need for your dog in particular. Maybe your Husky sheds a little more than normal, or a little less than normal. Choose the undercoat rake based on the needs that your dog has. 
Look at all the products closely. What are the features and specifications that they have? Does the product have all the features that you are going to need? Does the product have features that you aren't ever going to use? Consider all these things before making the purchase. 
Once you've done enough research and gone through enough products, you'll be able to make a good choice. You'll have an idea of what to look for in an undercoat rake. You'll also be able to pinpoint what features you are looking for in your undercoat rake. 
Should Huskies be shaved? 
The answer is no. Never. We are all aware that Huskies were made to live in the coldest conditions in the world. So it's obvious that you may feel it's a good idea to shave their coats during warm periods. Don't do it. It could lead to serious health complications for the Husky. 
The coat of a Husky plays a huge role in its survival. Huskies have a double coat that helps to regulate their temperature. Contrary to what we think, the double coat even helps the Husky during the warmer months. If you shave the Husky, the lack of a coat could lead to heatstroke in your Husky. 
The problem that arises when Huskies are shaved is that their skin comes into direct contact with the sunlight. Thanks to their coats, the skin of Huskies hasn't evolved to be able to take the direct sun. Therefore, a shaved coat could even kill a Husky. 
There is only one time when it's safe to actually shave a Husky. This is in preparation for surgery or some other medical emergency. Always remember that the coat of a Husky should never be shaven. If your groomer suggests it, we suggest you get away from them as quickly as you can! 
Are Huskies dogs that shed a lot? 
If you've never owned a Husky before, the first time your dog blows its undercoat during the spring season could come as quite a shock to you. When they do shed, the sheer amount of hair that a Husky can shed is quite mind-boggling. 
Many first-time Husky owners panic when they see the amount that their dogs are shedding. It's not any kind of illness. However, there's nothing to worry about. It's completely normal for Huskies to shed their hair in bucket loads. 
When Huskies are blowing their undercoats, they are losing a massive amount of hair. It may seem to you that you're getting rid of too much hair. Your Husky won't even look that different after losing so much hair. Brushing your Husky every day is a good way to keep shedding in control.
Tips for grooming your Husky 
So let's you've spent your money to buy a good undercoat rake for your Husky. Are you adept at grooming your Husky? Are there things you still don't know about grooming them the right way? After you land with the best undercoat rake for a husky, here are some tips you can follow to groom your Husky: 
Get your Husky accustomed to brushing very early. Start it from a very young age. If you do this, they will get used to it very early. They will also learn to enjoy it. Since grooming is a habit that is common even in wild dogs, they will start to like it as an instinct. 
While grooming your Husky, make sure to leave their whiskers alone. Don't trim or clip their whiskers at all during the grooming process. Huskies are very sensitive dogs and use various parts of their body as sensory organs. Their whiskers help them to sense motion and objects.
Ensure that you're paying close attention to areas where the hair can get matted. This is where you need to take special care while grooming your Husky. Pay close attention to areas like the stomach, under the tail, and around the legs. 
Create a regular routine for brushing your Husky. Their fur can get matted very quickly, so it's important to regularly Huskies. Matted fur can be dangerous, as it can interfere with the natural insulation that the fur gives. 
Always be aware of what kind of brush you need to be using. Using the right kind of brush to groom your Husky's fur is important. You can't use a pin brush when your Husky is shedding, so you need to have the right kind of brush. 
FAQs
Is it worth buying an undercoat rake for a Husky? 
Yes. Totally. An undercoat rake will help you keep your Husky's coat in check. During their undercoat blowing phase, they're going to shed massive amounts of hair. If you have a good undercoat rake, you can help to get large portions of the hair away to help your Husky.
What advantages do owning an undercoat rake offer? 
As mentioned before, Huskies are dogs that tend to shed a lot and through the year. Brushing is extremely important to take care of a Husky properly. While they can shed themselves, having an undercoat rake will help you get rid of large clumps of hair that would end up on the floor eventually. 
What are the factors to be considered while shopping for an undercoat rake?
With the large number of options that you are provided with today, it's not easy to make the right choice when it comes to undercoat rakes for your Husky. Consider some of the following factors while buying: Brand, Price, Features, Quality, and Warranty (if any), and Customer Reviews. 
Which are the best undercoat rakes for Huskies today? 
This is the question we hope to answer with this article. We've done quite a bit of reading and gone through a lot of the reviews and products that are available online. We've put together this list of what we believe to be the very best undercoat rakes for Huskies. 
Endnotes
Huskies are a wonderful breed that is excellent house pets. They love being around people and are one of the most sought-after breeds in the world. It's a joy to raise them, but they need to be taken care of in the right way. 
Huskies tend to shed a lot, so you have to be prepared for a lot of hair. These are the best undercoat rakes that you can use to groom your Husky better.