5 Best Training Collars for Huskies (Buying Guide & updated 2021)
Are you looking for the perfect, comfortable, safe but effective collar for your Siberian husky? Dog training collars are essential and very handy when you're training your buddy. For obedience training especially, dog collars are beneficial. They make it easy for you to prepare your big boy and teach him manners.
Siberian huskies, though, are a whole different challenge. They are notoriously hard to train and housebreak. They require consistent effort and hard work to train them appropriately successfully. The process can be quite tricky and time-consuming as well.
That is where training collars come into practice and become an efficient tool to help further you achieve the best training practices for your husky.
There is an abundance of dog training collars to choose from for your husky, which can be confusing, so here are the reviews for the five best training collars for Siberian husky. You can also go through the buying guide to understand the factors you need to consider before you begin looking for the best collar for your Siberian husky.
The Various Types Of Training Collars
Before we get down to the guidelines and reviews for selecting the best training collar, we'll acquaint you with the types of collars. While most collars have their merits, some can be very uncomfortable and counterproductive for training your husky. 
Hence, you should know which ones to avoid. Here are the most popular types of training collars for Siberian Huskies.
Flat Collar
These are the typical collars or basic bands around a dog's neck. These are also the most widely manufactured and sold collars. With no vibration or shocks, they cannot be used for enforcement beyond a point but will in no way harm your dog.
Prong Collars
The prong or pinch collars dig into your husky's neck if it tries to pull on it. While they use relatively less force than other collars on the market, they're still quite harsh. It's also easy to misuse them, and that's why they are being discontinued rapidly.
Shock Collars
These are also referred to as E-collars and can lead to aggression problems in the long run if the shocks are too strong. For this very reason, they've been banned in several countries across the globe. Moreover, we only recommend them for notorious and extremely mischievous dogs as a last resort.
Vibration Collars
These collars are often mistaken for shock collars; however, they are not harsh on your husky. Moreover, the vibration is startling but not painful. You can effectively employ them for correction and other positive training techniques. 
However, this feature is often included in shock collars and visa-versa. Hence, it's best if you used it wisely not to aggravate your dog further.
Choke Collars
The choke collars are not ideal for you if you adore your dog, as they provide quick choking to affect its behavior. You can facilitate the choking by pulling it at your end or when the dog struggles and tries to escape. 
The chain-link construction of the collar doesn't provide much reprieve. In case you do consider getting this collar, you must consult a professional trainer and then proceed. 
Martingale Collar
The martingale collar has an overlapping design that resembles that of a choke collar. However, it only tightens and doesn't choke your Husky. 
Also, it doesn't buckle; instead, you'll have to slip it over your pet's head. You can effectively use it to prevent your impulsive husky from running away.
Best Training Collar For Siberian Husky Reviews
Training collars for husky come in different types and with various features. There are essentially two categories of training collars available widely, and you can categorize the collars mentioned above into them. The aversive equipment includes shock collars, and the force-free collars do not come with static or shock functions.
The preference for either depends on the owner, but it is important to note that the shock or static stimulation collars are made entirely safe for your furry friends. They do not come with high-intensity shock or static that would be harmful but are kept to reinforce training methods. 
E-collars, aside from the static option, comes with vibration and sound functions as well. So if you prefer not to use the static mode, you can always switch to the vibration or the sound mode. All three have proven effective, especially for large dogs like huskies, to be appropriate and efficient training collars.
Let's look at our top picks.
---
WOLFWILL Humane Remote Dog Training Collar – Best Overall
---
---
If you're one of the gentle pet owners that do not prefer the shock feature in the collars for your big husky, the Wolfwill humane remote dog collar will be your best fit. 
It is practical and can work on big and large dogs like Siberian huskies and comes with waterproofing, so you don't have to worry about water damage. 
The Wolfwill collar uses sound and tone, and vibrational stimulation to provide feedback to your husky during training and encourage and motivate your dog for better training results. This way, you can effectively use the features when obedience training your husky. 
There are up to 16 different levels of intensities of vibrations for you to pick. So you can go as light or as strong as you want, depending on the requirement and the difficulty in training your big boy.
Another great feature of this remote collar is that it comes with touch distinguished control buttons. That helps the blind pet owners easily control the collar as well. It's an added benefit, and it can very effectively be used by sighted owners as well. But this just proves how humane this collar is, not only towards the dogs but also for people. 
It also has a range that goes up to 660 yards, with long-lasting batteries, and is very useful for training dogs with behavioral issues.
Specifications
Dimensions: 6.65 x 5.2 x 2.52 inches
Weight: 11.2 oz. 
Warranty: 2 years
Material: ABS and TPU and is waterproof
Suitable Dog Weight: 22-88 pounds
Package Includes Receiver collar, remote transmitter, neck strap, user manual, AC adapter, and splitter charging cable. 
Pros
It comes with touch-distinguished buttons for blind owners.
Humane with no shock stimulation
Adjustable strap
Cons
Light stimulation options are not as effective.
Sale
---
Educator E-Collar Remote Dog Training Collar – Best Design
---
---
An E-collar can be beneficial when you are trying to train your husky for obedience. The Educator E-Collar is one of the top-selling products from Educator. This particular dog collar comes with three modes- static, vibration, and optional pavlovian sound mode. 
It's safer for your husky as it is not like the conventional shock collars, as it uses mild blunt static stimulation instead of a sharp shock sensation. It will be annoying to your buddy at best and will not be harmful or stressful at all. There are up to 100 stimulation levels for you to select.
It is handy to get your husky motivated to obey your commands and enforce obedience.
The pavlovian tone feature allows the huskies to respond to sound before the stimulation., hence conditioning theThis is an optional feature and can be turned on or off, depending on your preference.
A tracking light comes with the collar to keep your husky visible even in the dark. Both the collar and the tracking light can be controlled using the stopwatch style controller. The collar is designed for big and intelligent dogs like husky, which can be very prone to destructive behaviors if not appropriately trained and timely.
This E-collar has one of the best ranges available. You can stimulate the collar even from half a mile away. That is especially useful for huskies that like to run around and explore.
Specifications 
Material: Biothane Collar Strap
Closure Type: Buckle
Collar Receiver: 2.0"X1.5X1.1", 2.4 oz
Dimensions: 6.89 x 11 x 2.17 inches
Warranty: 2 Years
Package Includes: Collar receiver, remote, test light, lanyard, user manual, battery charger, added contact points, and contact point tool.
Pros
It has a long-range of half a mile.
Suitable for big dogs like husky
Safe blunt stimulation and strong vibration
Cons
Requires frequent charging
---
Educator ET-800 'The Boss' Training Collar- Premium Pick
---
---
This particular training collar by Educator is designed for dogs who have stubborn temperaments. And who can be more stubborn than an independent Siberian husky that doesn't spare any opportunity to run away? It's designed for larger dogs that weigh about 25 pounds or more, so it is ideal for Siberian huskies. 
This remote collar has one of the largest ranges that stretches up to a whole mile. Additionally, you don't have to worry about losing connection to your husky even as it tries to run around.
This collar, too, has a safer blunt kind of stimulation shock instead of sharp ones. So it is not painful to your husky but is strong enough to get their attention and get them moving. 
With 100 levels of stimulations available, you can test the ones that work well and lock your preference to set it as the preferred stimulation level. If you want to get a higher level of stimulation, then there's a booster button, too, that lets you intensify the shock up to 60 levels momentarily. 
This collar works exceptionally well if your husky has been showing aggressive and destructive behaviors and if his obedience training is not going well. That will help get their attention and make them understand and reinforce positive behaviors within them.
This model also comes with an ergonomic transmitter with a stopwatch design.
Aside from the blunt stimulation, there are vibrational settings that are more like tappings and pavlovian tone also available. This collar model is also instrumental if you have two huskies or two dogs. The system will allow you to control two collars at once.
Specifications
Dimensions: 11.95 x 17 x 2.43 inches
Material: Titanium and Plastic
Durability: Waterproof material
Suitable Dog Weight: 25 pounds and more
Package Includes two sets of contact points, lithium-powered batteries, battery charger, test light, user manual, collar receiver, and transmitter with lanyard.
Pros
Allows swimming of your dog as it is waterproof
It has a range of one mile.
Ergonomic transmitter design
Cons
---
DOG CARE Dog Training Collar- Best Value
---
---
The DOG CARE training collar comes with three main modes of stimulation, too. There are 99 levels of static stimulation available with vibration and tone, also. This collar has a smaller range than others with only 330 yards but proves to be an effective tool for obedience training big and larger dogs like a husky.
An interesting feature that these collar features are the safety keypad lock features. This safety feature allows you to lock the control buttons on the remote. That helps you avoid accidentally triggering the buttons when you put them somewhere, like in your pockets or a bag. So no accidentally shocking your buddy.
The transmitter and receiver system is as efficient as it automatically shuts down within 20 minutes of inactivity. 
The remote is also long-lasting and can last for up to 45 days with battery standby time, while the receiver has a standby time of up to 15 days. This receiver is also waterproof, so you can take your dogs for a swim without concern for damaging the system.
The charging of the batteries is also easy and convenient as it supports USB port charging. The best part is that the system can support multiple dogs, up to nine, in total with one remote transmitter. So you don't need to get separate remotes for your several dogs, and you can manage them efficiently and conveniently.
It is good to note that the collar isn't designed for smaller dogs but big and grown dogs who require adequate obedience training. So it will not be suitable for dogs that are too small or below 15 pounds of weight.
Specifications
Dimensions: 9.06 x 6.57 x 2.24 inches
Weight: 10.4 Ounces
Material: Water-resistant ABS material
Suitable Dog Weight: 15-100 pounds
Number of Dogs Supported: 9
Package Includes receiver, transmitter remote, collar, batteries, user manual.
Pros
Safety keypad lock available to prevent accidental shocking
Can support up to 9 receivers
Waterproof 
Cons
---
OneTigris Military Adjustable Dog Collar- Best Budget Pick
---
---
If you're looking for a much more simplistic and basic collar for your grown husky, then this military-style dog collar will prove to be a good fit. 
The OneTigris military dog collar is a nylon dog collar and doesn't come with remote receivers and transmitters. That means it doesn't host any of the shock or static stimulation as well. That makes it a very safe and harmless dog collar for your husky to use during obedience training. You can even use this for peaceful walks and not have to worry about your husky trying to escape suddenly. 
The five adjustable fittings allow you to adjust the collar to perfectly and comfortably fit your husky. The collar is padded and made up of durable material so it can withstand rigorous pulling as well. The leash ring, which is a storm D ring, makes it more rigid and robust.
The collar comes in various sizes and colors so that you can choose one accordingly. There are also customizations available as you can add patches or other decoratives to the velcro panel. Be careful not to customize it with any patches or materials that would get caught in your husky's coat.
That is one of the best collars available if you want to keep your husky's comfort a priority and are on a budget. The collar material is softly padded and made so that it would not cause any irritation to your furry friend. 
However, it isn't better suited for dogs with some obedience training and will not require any forceful methods to train. That is one of the most affordable and simplistic collars available and will be perfect if you want to avoid shock collars.
When you order this collar, make sure to order a size up as the measure has been smaller than expected.
Specifications
Dimensions: 8.8 x 1.8 x 1.4 inches 
Weight: 4.8 ounces 
Material: Nylon
Suitable Neck Size: 17.7 to 20.9 inches
Suitable Dog Weight: 50 to 90 pounds
Closure Type: Buckle
Package Includes one adjustable dog collar.
Pros
Durable byo material
Padded to give comfort 
Adjustable strap
Cons
A Buying Guide To Training Collars For Siberian Huskies
Looking at the reviews mentioned above, you must be confused about which collar is the best. Additionally, these collars help train your huskies by enforcement, so you can't afford to make the wrong choice.
To solve this dilemma and help you arrive at the correct decision, we have curated a comprehensive buyer's guide. Keeping these tips in mind will help you find the aptest training collar, as per your huskies' needs.
Consider Your Dogs Size
While most collars will look good on paper and seem highly efficient, they must also be comfortable for your husky. Moreover, even though most training collars are adjustable, Siberian Huskies tend to be huge compared to other dogs. 
As a result, they need sturdier and thicker bands to feel the vibration. Their voluminous coat and thick neck call for a more impactful collar. Also, the stimulation must be strong enough to reach your dog, but at the same time, it shouldn't intimidate or cause it pain.
Suitable Training Modes
Even though most Siberian Huskies behave alike, some turn out to be more stubborn and mischievous than others. Thus, the collar you select should come equipped with suitable training modes to stimulate your dog.
Additionally, combining their stubborn demeanor with the size, you must pick a training collar that has a substantial amount of beep. 
Check The Material Used
Your dog will wear it often, and thus, the material used has to be high-quality. We recommend that you go for nylon or leather as these are durable and well-suited for pets like huskies. Additionally, you must avoid any training collar that is below par in terms of material such as plastic or rubber.
If the material used is cheap, the strong Siberian Husky will likely break it into pieces when it's annoyed. Moreover, you won't be able to use it for enforcement purposes.
Quality Is Paramount 
If you're after saving a few bucks and settle for a collar with substandard quality, your beloved pet will suffer. Additionally, it's easier to train your dog if you provide it a comfortable environment that's conducive to training. So, the collar shouldn't feel like a death sentence, as it will do more harm than good. 
Some low-quality training collars are known to deliver unwarranted shocks, and that too, pretty often. Moreover, apart from inflicting unnecessary pain on your dog, this will also confuse him and hinder the learning process. So, you must aim for the highest possible quality around your budget. 
Aim For Adjustability
Even though most collars are adjustable in terms of size, you must pick the ones that offer shock adjustability. That will cater to a comprehensive and exhaustive training requirement. Also, you can condition your husky concerning various levels of behavioral adjustments.
The warning beep and vibration mode should come with various levels of adjustment. That will make the collar quite user-friendly and effective for this fierce breed of dogs. Additionally, the different shock levels will assist a thorough and fool-proof training.
Think Of Your Budget
As we mentioned before, quality is non-negotiable, and you must strive to provide your Siberian Husky with the best. However, if you're working with a strict budget for dog supplies, you should ideally avoid going after fancy stuff. 
The collar you choose must have excellent functionality, and the looks and embellishments are secondary aspects. Hence you should prioritize features like remote control, adjustability, and the range or distance allowed. 
Analyze Your Purpose
People want training collars for a plethora of reasons. Where some want to curb non-disciplinary behavior, others want to take their fogs for safe walks. Hence, you must look for a collar that aligns with your purpose of purchase. 
Your Husky's Attitude
Much like their owners, even dogs have different temperaments, and the breed characteristics can only serve as an outline. Due to this, you should buy a collar that suits your dog's demeanor. Additionally, you must keep the behavior modification you want in mind too. 
Even though choke collars are effective, they are not suited for sensitive dogs and can lead to depressive states. On the contrary, simple flat collars won't fit the bill if you want to engage in high-level training.
The Range Of the Collar
If the collars you're considering are remote-controlled, you must check out the range they offer. Moreover, your dog will likely play around and run, so you don't want to deal with a lost connection or range often.
Great coverage and flexibility in training are two crucial aspects when you look for remote-controlled collars. For a husky, the range should be long-distance as these active dogs will run away all the time.
Battery Life
If you use an electric shock collar or remote-controlled collar, you must keep an eye on its battery life. We recommend that you opt for rechargeable batteries or those with long and extended lives. As a result, this will accord the collar more functionality and usability.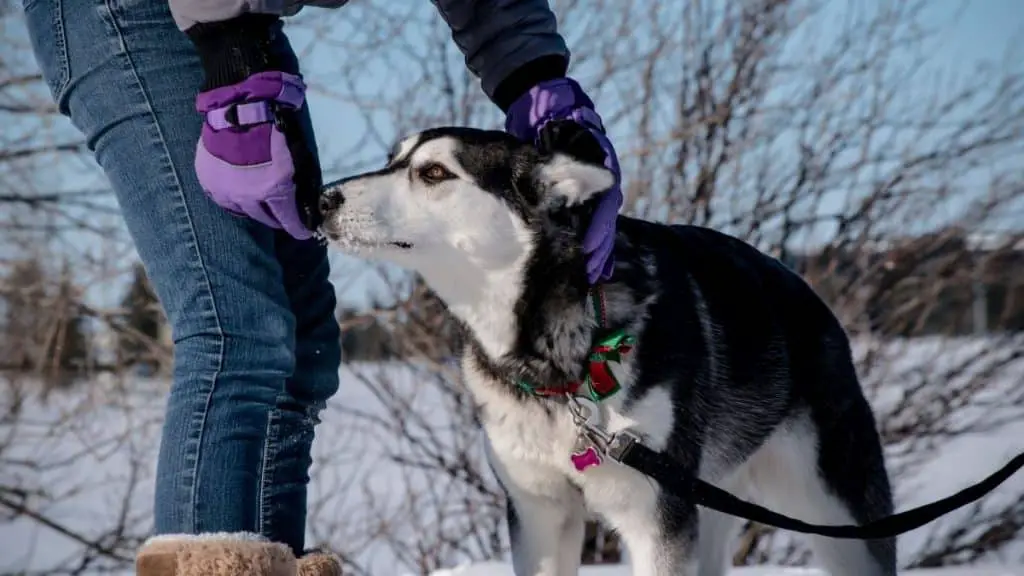 Some Tips To Help You Train Your Husky
While collars are very efficient modes of training, you must combine them with other methods to see the best results. Here are some ways to quickly alter your husky's behavior.
Don't directly force a collar on your dog. You must gradually train it with a nose loop till it accepts the halter. 
It would help if you slowly got your dog used to being collared. Timed interval training effectively desensitizes your dog from being led by the nose or the head. 
It would be best if you established that you're the leader in front of alpha dogs like Huskies, and it's better not to act as equals.
You can engage in positive reinforcement techniques like reward systems for the best results. 
You should ideally keep violence at bay and resort to shock and choke collars in desperate situations only. That will keep the destructive tendencies under control.
Balance the training and be consistent as sporadic training is up to no good.
Give it at least 30 minutes of exercise, daily, to avoid excess energy build-up. 
Last but not the least, you should be patient and persistent. Your furry friend will take its time getting used to being collared, so you must give it that.
Frequently Asked Questions (FAQ)
It's natural to have a few doubts still, and in this section, we have answered the most popular and common ones. These will give you more clarity and resolve any remaining queries regarding training your husky.
Are Huskies really that hard to train?
Huskies are known for being strong-willed, stubborn, and independent. They are a pack dog and are famous for leadership. Therefore, naturally, it's challenging to train them. You are required to give proper attention and follow appropriate methods to teach them. Though it's difficult, it's not impossible.
Why do Huskies ignore you?
Huskies can be easily distracted by everything that goes around. That is probably the reason why they sometimes might not listen to you. To improve this, you should train your Husky outside. This way, it can get used to your command even when things are going around. 
Should I get a male or a female Husky?
Both the sexes make good pets, and you will love them equally. However, male Alaskan and Siberian Huskies are more dependent on you. They will prefer staying with you than alone. Female Huskies, in this regard, are more independent. 
There are other things to consider too; you should always make an informed decision. Females can be trained more quickly than males; they mature sooner and are also less dominant than males. They are relatively weaker than males and are not as stubborn, which makes them easily trainable. 
Can Huskies be trusted off-leash, and at what age do they calm down?
That is an essential issue for your safety and other's safety too. Huskies, even if trained, should not be trusted off-leash. As it only takes seconds for accidents to occur. Huskies are aggressive dogs, and hence, you should be kept on a leash even if they are relatively mild. 
However, just like other dogs, Huskies do get calmer as they grow older. Some Huskies settle down at around the 6-12 month mark, whereas some are high-energy dogs even when they are 2-3 years old. 
Is it okay if you use a shock collar on a husky?
If the intensity is within bounds and is bearable, you can effectively use them for training your Siberian Husky. The collar must also come with proper safety standard certification. 
On the contrary, if the quality is below par, the shocks will deeply disturb your dog. Also, eventually, it can lead to counterproductive effects and worse behavior patterns.
Final Word
Now that you're well-versed with the best training collar for a Siberian Husky, you'll be able to select one for your dog. Each of our top picks has some unbeatable qualities, so you must evaluate them thoroughly. Also, you must adhere to the buying guidelines for the most practical purchase.
Just remember that the comfort and safety of your husky are of the utmost importance when selecting a collar. Also, you should base your buying decision on factors like your budget, value for money, and quality of the training collar. Good luck curbing your husky's impulsive behavior!